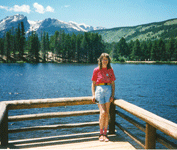 I come by my wanderlust very honestly. My maternal grandmother was born in 1882 but still managed to go to Puerto Rico to teach school for a year in 1908 or so. She also traveled from Chicago to Tacoma, WA where she met my grandfather. Her father even went to Nome, Alaska for the gold rush in 1899.
My paternal grandmother was a traveler too. She got my grandfather to take her from Kansas to California one winter and as a result they moved there in the early 1910's so they could grow flowers all year round. She was known to wheedle her way into a trip just about anywhere no matter how much she might put everyone else out! Just so long as she could GO.
As a result I seem to have gotten a double dose of the travel bug. As a small child, my parents took us all over southern California from the mountains to the desert to the ocean each year on vacation. But that was just the beginning. After my father died (when I was 6) my mother took a few years to get going on the idea of travel without him but then there was no stopping her.
I took my first plane ride in the fall of 1959 when we flew from LA to San Francisco. Jets had just been introduced in 1958 and we flew first class on a United jet up to SF and flew home a few days later on a prop. I was totally impressed.
And I just wanted to go more! I couldn't think of anything better than to get on a plane and go. And go we did, though not always by plane. Most years we spent a week in La Jolla, Laguna Beach or Coronado. We didn't have a lot of money but my mom believed that for at least 1 week a year (more if she could manage it) you should live like you were rich and so we did.
On top of the week in the lap of luxury she managed to figure out a way for us to ta
ke tons more trips.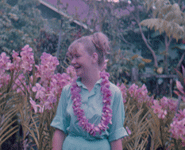 Grand Canyon by train and then flight back from Phoenix--November 1962
Two weeks in Hawaii visiting all the islands--Summer 1964
Las Vegas, Zion, Bryce Canyon, Salt Lake City, Yellowstone and Grand Tetons by car--Summer 1965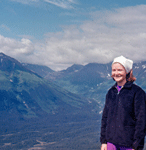 4 weeks in Unterweissenbach Austria studying Russian and then 2 weeks touring Kiev, Leningrad, Moscow and Berlin with a group of other high school kids (Mom didn't go)--Summer 1966
3 weeks in Alaska
including the Arctic Circle and the inland passage based on the excuse we needed to visit my sister who was in Anchorage--1967
Road trip up Hwy 1 to Big Sur and San Francisco--1968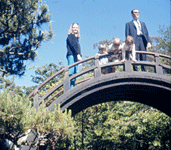 1 week trip to Washington DC and New York City--spring break 1969
Kauai--New Years 1969
Mazatlan--Spring break 1970
Tahoe and San Francisco New Years 1970
Road trip to Las Vegas, Grand Canyon and Glen Canyon Spring break 1972
2 weeks in Tahiti June 1973
Albuquerque, Santa Fe, Durango, Canyon of the Gunnison, Aspen, Rocky Mountain National Park August 1974
Club Med Manzanillo
--
Spring Break 1976
After 1976 Mom finally learned to travel on her own and I started traveling on business. It was fun for the first year or two and then being on the road 1/3 to 1/2 of the time got old. I'd seen a lot of major cities' airports and city centers and a museum caught on the fly but I missed really
seeing
a place.
And then I met Walter and we began to do a whole different kind of mix of adventures:
White water rafting on Putah Creek--Spring 1979
House boating on Trinity Lake in the Trinity Alps--August 1979
Weekend workshops in the Santa Cruz mountains at a clothes optional place called Getting In Touch--1979 and 1980
Our honeymoon at the Club Med on the island of Eleuthera in the Bahamas--April 1980
Weekend in San Diego and Carlsbad--Sept 1981
Driving Old Hwy 49 through the Gold Country staying at B & Bs--Nov 1981
Road trip to Big Sur with a stay at Esalen and a visit to Hearst Castle--June 1982
Weekends in Montreal, Boston, Rockport, MA, Mt Washington, NH, the Maine Coast and New York City-1983
Weekends in Cannon Beach, OR and Bend, OR--1984
Weekends in Orcas Island, WA, Leavenworth, WA, Lake Quinault, Victoria, BC and Vancouver, BC--1985, 1986 and 1987
One week in Kauai-May 1988
RV trip to Revelstroke, Lake Louise, Banff in Canada--September 1989
Horse backpacking trip to the Alpine Lakes Wilderness outside of Leavenworth--August 1990
2 week trip to the Yucatan, Mexico--January 1991
RV trip to do Grand Circle-Zion, Bryce, Capitol Reef, Arches, Canyon Lands, Mesa Verde and Grand Canyon--April 1992
RV trip to Glacier, Yellowstone and Grand Teton--August 1993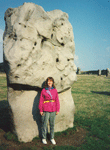 2 week trip to England including a week on a narrow boat at Stoke on Trent--September 1994
Rocky Mountain National Park--July 1995
Lake Chelan--September 1995
Road trip to Crater Lake, House boating on Trinity, Oregon Coast--Sept 1996
2 weeks on the Big Island in Hawaii--September 1997
1 week at Canoe Pass on Thetis Island in the Canadian Gulf Islands--July 1998
1 week at Lake Tahoe--September 1998
1 week at Lake Sacheen north of Spokane--June 1999
2 1/2 week RV trip down Oregon Coast to California Redwoods and back--June 2000
2 weeks in RV Circle tour of Olympic Peninsula--September 2000
In June 2001, Walter retired and we began to go camping mid-week whenever we felt like it. In August 2002 we got our Casita Trailer and things really started rolling.
We haven't been on a plane since 2012 but we've logged a lot of miles to a lot of wonderful places and hiked a lot of great trails. To read about those trips visit
our joint website
.