In July 1967, my mother and I took a 3 week trip to Alaska based on the excuse of visiting my sister, Kathy Donaghu, who was living in Anchorage that year.
It was a long time ago so I don't remember all the details but using the photos I salvaged by scanning the slides from the trip to jog my memory here's what I remember about the trip.
Flight: LAX to Vancouver
Mom had problems going through customs because she had two cartons of cigarettes and they had a limit on how many you could bring in. I guess she had to pay duty on them and she was not happy. I also remember that wrestling with the huge heavy suitcases to get through customs was also a bone of contention for her. She seemed to think there should be people to help you with that.
Taxi: Airport to Ferry Dock
Ferry: Vancouver to Victoria-–I don't know how we got from ferry dock to hotel though I assume we either took a cab or a shuttle bus of some sort.
Hotel: Empress Hotel, the grand old lady complete with cage elevators like those at the Hotel Del Coronado. By 1967 these were very rare as were elevator operators and they made a big deal about them. I had a fondness for them from our stays at the Hotel Del so I remember them. We had a room with a claw footed bathtub and rather seedy carpeting and drapes. But it was still a wonderful grand old hotel and of course it has been completely renovated since then.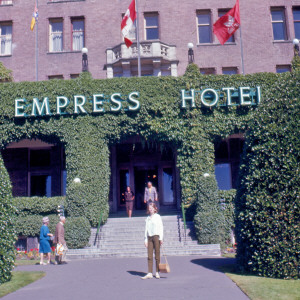 Sunday night we had dinner in the hotel and they wouldn't serve alcohol in the dining room. Mom tried to get a drink in the bar and they wouldn't serve her because she was an accompanied female. This quite simply appalled her.
The next day we toured Victoria and took photos.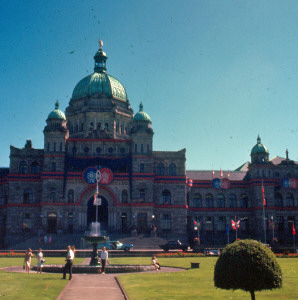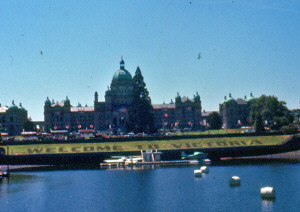 We went shopping and bought me a Black Watch kilt and Mom bought a porcelain egg shirring cup which she kept for years. We also went for dinner out in the outer reaches where the restaurant had it's own aquarium with lots of strange sea worms. I suspect it was out in Oak Bay but then again who knows it was a long time ago.
WWe also took a tour to Butchart Gardens in the late afternoon.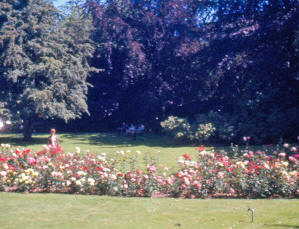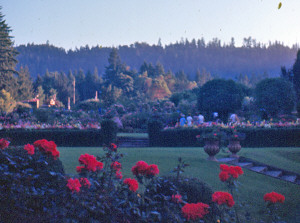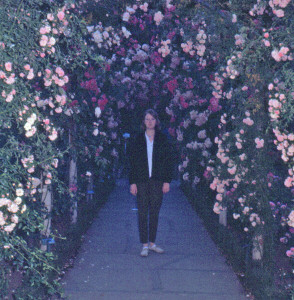 We had time to see the gardens and then they did a lighted fountain show which was pretty followed by a truly dreadful musical presentation. We wandered off and saw the sunset over Brentwood Bay when I couldn't stand the music any longer.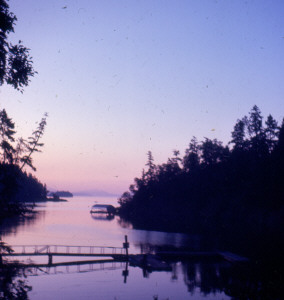 I suspect that we stayed 2 days and 3 night in Victoria but I could be wrong.
Flight: Victoria to Sea-ac
This flight was on a very small plane. The co-captain served as the flight attendant and came through the cabin to serve us cookies and pink lemonade. It was shockingly hot in Seattle-–over 80 and no air conditioning in the airport. We had no idea it could be that hot in Seattle!
Flight: Sea-Tac to Anchorage
We arrived in Anchorage and it was 80 degrees there too! We stayed at the brand new Captain Cook Hotel in downtown Anchorage. It had only been 3 years since the big Anchorage earthquake and the streets were still a mess. Construction would start at day break—4:30 AM. The bars would close at 5 am and the drunks hit the streets while they swept the places out to re-open again at 7 AM. Even though our room was up in the tower we could still hear all these goings on each morning.
OOne day Kathy and her husband, Mike took us out to the Matanuska Valley and we visited the University of Alaska Farm with the jumbo cabbages.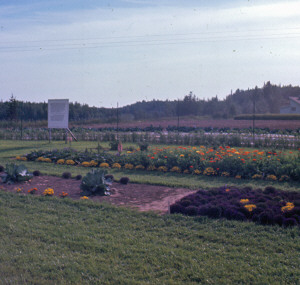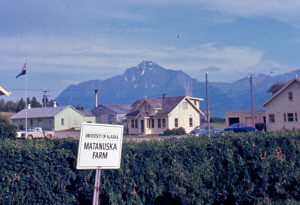 We also went to a lake whose name I have no memory of but there are photos of.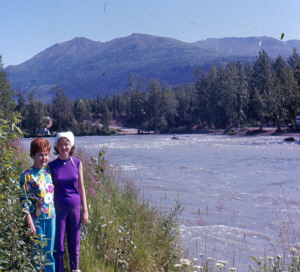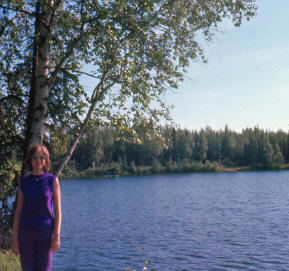 One evening we went out to Earthquake Park to watch the sunset at 11:30 pm. We took some lovely sunset pictures there.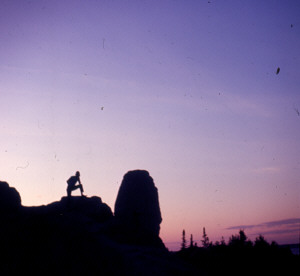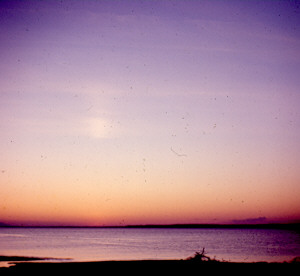 The park was a mass of trees growing at weird angles and the ground churned up like it had been run through a mixer. It may have been that evening that we had dinner in the fancy restaurant at the top of the Captain Cook Hotel with Kathy and Mike.
I think we went out and saw the new port that was being built. Everything that had been done the year before had to be pulled out and redone because it had been crushed by the ice in the winter. Another day we went out with Kathy and Mike to the Alyeska Glacier.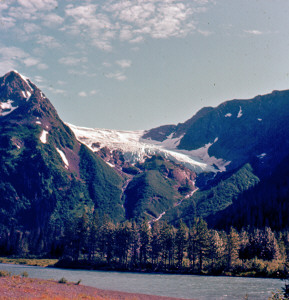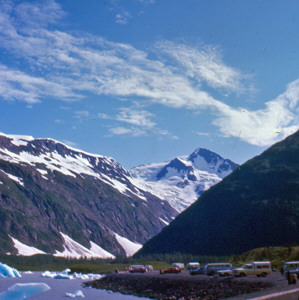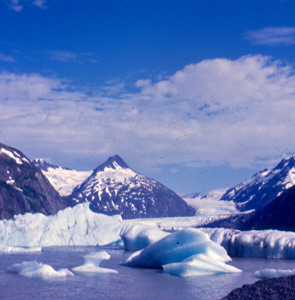 The we took the ski lift to the top of the Alyeska Ski resort.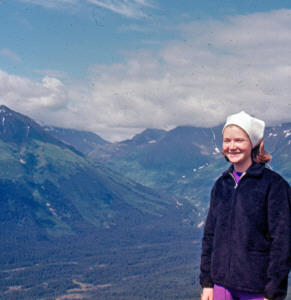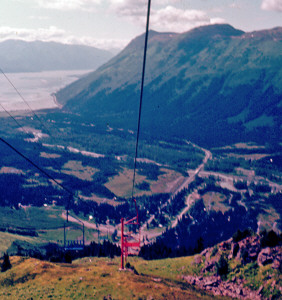 That same day we went on down to Seward. We saw boats that had been washed inland for miles in the tsunami that had been caused by the earthquake. I was amazed that nobody had rescued them yet when it had been so long.
Train: Anchorage to Mt. McKinley National Park (now called Denali National Park)
We managed to get just a glimpse of Mt. McKinley from the train.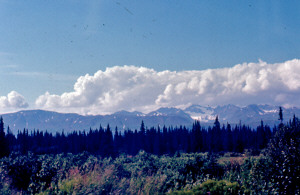 Once we arrived at the park, I remember taking a walk in the late afternoon on a nature trail near the hotel. I came back covered in mosquito bites even though I hadn't ever stopped moving. Mom was fine—she always claimed nicotine scared them away. We got up horribly early the next morning—4 am is my guess--to have breakfast and take a tour bus into the park. The bus was the only way that you could go into the park and the best time to see wildlife was first thing in the morning. Another bus had broken down and our bus driver stopped to help them out. Here they are pouring water (I assume) into the front of the bus.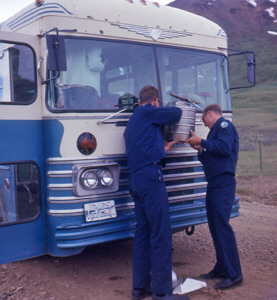 We saw ptarmigan and little else. The bus took us to the visitor's center at the foot on Mt. McKinley.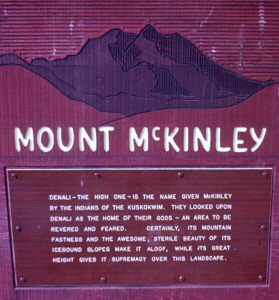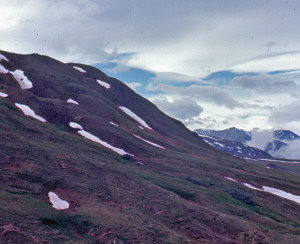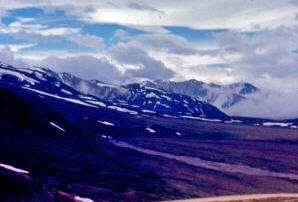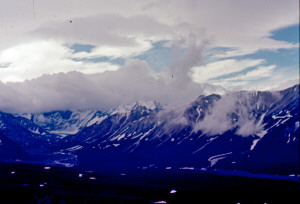 Looking at current maps I suspect we went to the Eielson Visitor's Center which is an 8 hour round trip. It was new then having opened in 1960 and you could sit and watch the clouds move in hopes of seeing the mountain. We ate our box lunches there even though it was about 8:30 in the morning. I remember having trouble facing down the hard boiled egg that was in the lunch. The mountain never came out but that's not unusual. We were told that photographers can literally spend all summer waiting to get a photo of Mt. McKinley.
When we got back to the hotel there were mountain climbers who had just come off the mountain and part of their party hadn't survived. That made a big impression on me since the weather wasn't all that bad and it was July after all. McKinley it turns out is a very dangerous mountain to climb.
Train: McKinley to Fairbanks.
The next day we took a tour of the city of Fairbanks. I remember standing on the banks of the Tanana River next to the log cabin that was the Chamber of Commerce building and Mom saying, "I wonder if this river ever floods?" A month later it did and the Centennial Fair grounds and much of the city went under. We took a boat tour on the Tanana to a native village. We saw them fishing for salmon with a fishing wheel.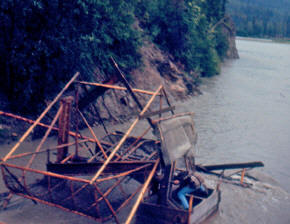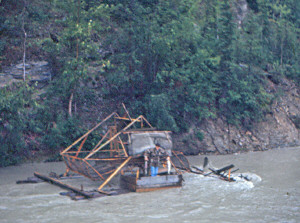 And we saw salmon hanging to dry.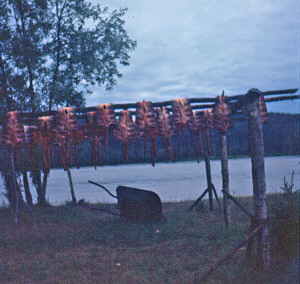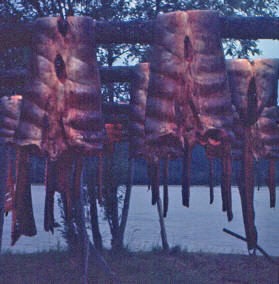 It all felt a little staged but what the heck.
Flight: Fairbanks to Nome on Wien Airlines Tour
We may not have seen McKinley at the park but we saw some great mountains from the air along with this great view of the rivers.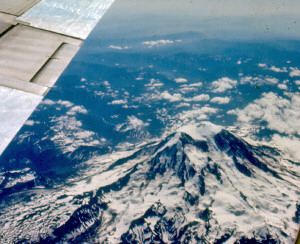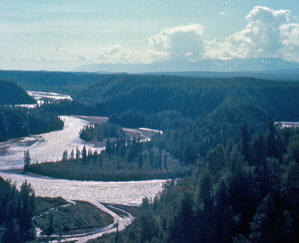 We had lunch in a restaurant overlooking the Bering Sea.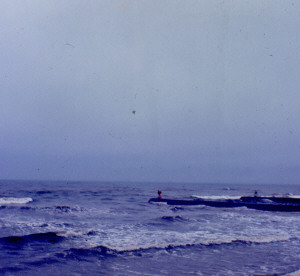 We got the leftovers of the Rotary luncheon including Crab Newburg and Caribou Stew--both very very good. It was one of the better meals we had on the whole trip. We went to the outskirts of town (I guess on a bus but I don't remember) to pan for gold in an old Quonset hut. No success.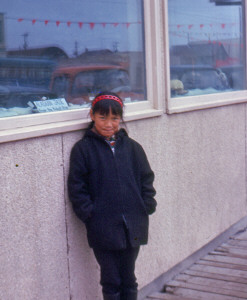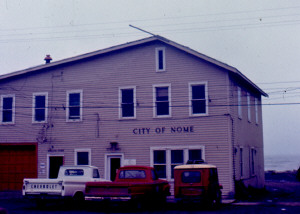 Mom took a photo of a native girl in front a building across from the City Hall. We also visited Poulet's native craft store. I bought a handmade Eskimo doll with authentic fur parka and leggings for a whopping $7.95! I remember thinking that was a lot of money. Times change. Mom got a stuffed seal made of seal skin. She wanted a soap stone carving but didn't think she could afford it. She did get a pendant made from a fossilized piece of walrus tooth, I don't know if it was there or later in the trip.
Flight: Nome to Kotzebue on Wien Airlines
That afternoon we flew from Nome to Kotzebue. We had dinner there. They had a dancing performance in a Quonset hut.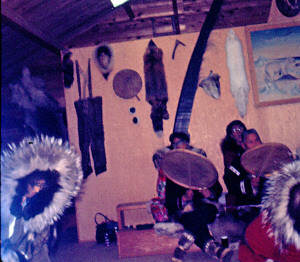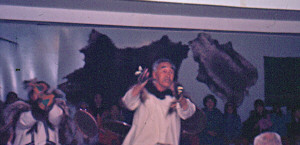 I remember that they held their mittens rather than wearing them. There was lots of drumming and chanting. Then we all went outside in the dusk for a blanket toss.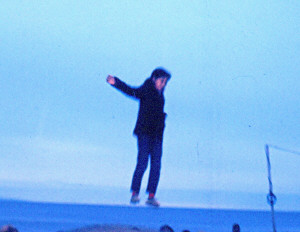 I didn't have the nerve to volunteer so we just watched. We stayed in a two-story hotel that had rooms on the top floor and a dining area on the bottom. Meals were served on big long tables family style. I suspect it was the Arctic Hotel owned by Wien Airlines that I've found photos of on-line. It sure looks familiar.
Breakfast the next morning was really good as I recall. I have memories of going downstairs greeted by the smell of Blueberry(Huckleberry?) pancakes. Then we had a bus tour of Kotzebue. We saw the Kotzebue National Forest which consisted of one very small tree and a sign. We stopped at the church and Mom took pictures.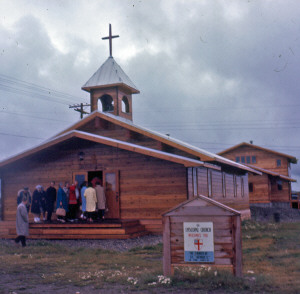 She was fascinated by the fact that the missionaries had split up the territory in the Arctic so each town was all one denomination. Then we went to the General Store. There was a carving demonstration and several ladies fought over who got to buy the carving.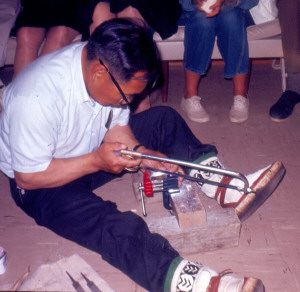 There was a small boat that came in. The comment from the locals was that it was very high end—it had a kicker behind. In other words it had an outboard motor. One of us actually took a photo of it.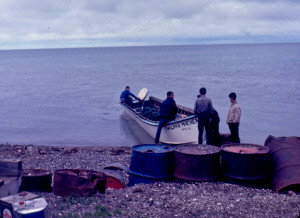 Flight: Kotzebue to Pt. Barrow.
It was so cold that they met us at the plane with parkas to wear during our stay. I remember having a caribou burger for lunch in a tiny little greasy spoon that day. We took a bus out onto the tundra to see itsy bitsy little flowers. It was cold and windy and I was a little young (16) to appreciate them. We saw the memorial to Wiley Post where he crashed his plane. We also got to see an original sod house that the missionaries got the natives to give up to live in the tar paper shacks they were living instead.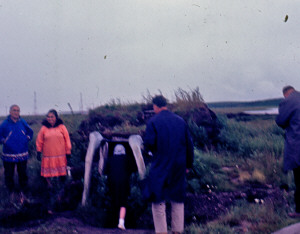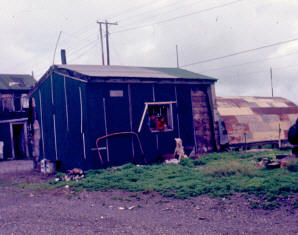 We watched a demonstration on how to make mukluks with skins and sinew for thread.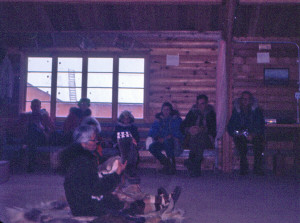 The Eskimo woman who did it had worn down her front teeth pulling sinew through them. We sat and talked with other guests in the little lobby of hotel, which was like a living room or the waiting room of a small doctor's office. This hotel was also called the Arctic Hotel-–we have a photo of it.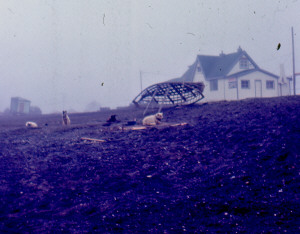 There was an 80 year old doctor who was on a tour and told great stories. Every one was impressed that he was on such a far flung trip at his age. He was supposed to be going home that night since his was only a day trip. But they wouldn't let any planes leave Fairbanks because it was socked in at Pt Barrow. So he and the others on that tour had to spend the night when they hadn't planned to. We were scheduled to spend the night and our room had a window that looked out at the native housing behind us. It was very squalid with an outhouse and fish hanging to dry along with the laundry.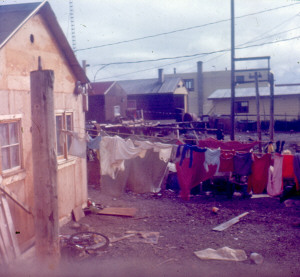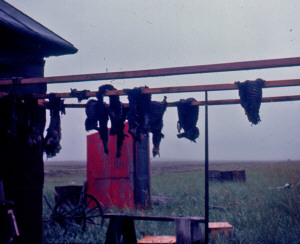 The next day we walked around town looking at the abandoned road equipment and junk everywhere. And the only stop sign in town.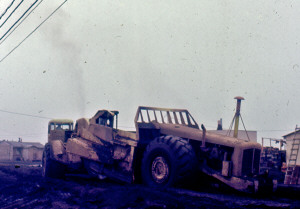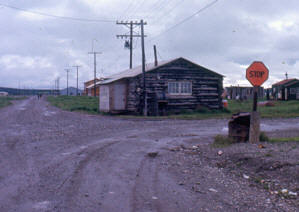 We talked to the native kids and Mom took pictures of them. They said it was a cold summer because they hadn't gotten to take their parkas off yet.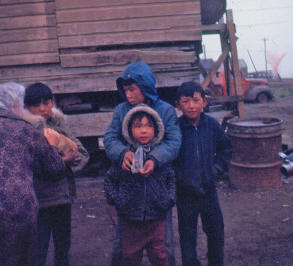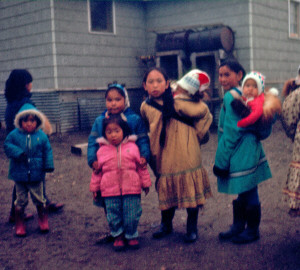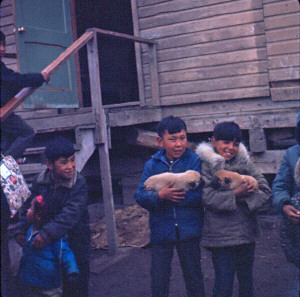 The ice pack hadn't broken up and you could see the ice out in the Arctic Sea. I'm in green and Mom is in red.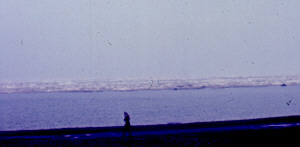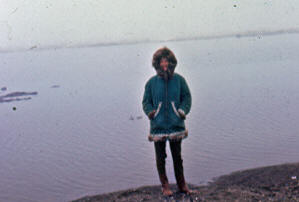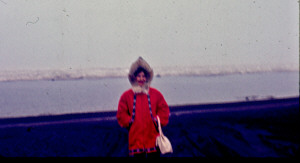 Supply ships came once a summer with canned goods and supplies. The school teachers bought everything by the case and shared it amongst themselves.
At some point we visited the church and Mom took a photo of it.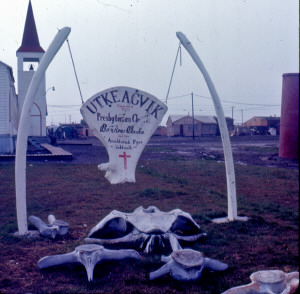 The day wore on and still there was no plane. But the dog sleds and dogs came through.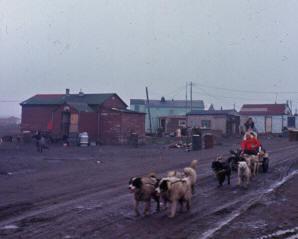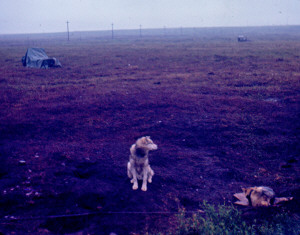 Finally late in the evening, the fog lifted.
Flight: Pt Barrow to Fairbanks
We flew out of Pt Barrow and up above the clouds. We got to see the Midnight Sun from the plane window and took a photo to prove it.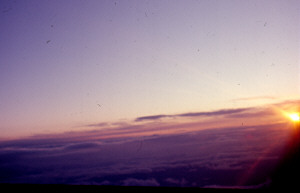 We had been supposed to go to the Centennial Fair in Fairbanks that day but we missed it because we were stuck in Pt. Barrow. It was staged in celebration of the 100th anniversary of the Alaska Purchase. Several weeks later it got closed due to flooding. It rained pretty much every day we were up in Alaska once we left Anchorage. Mom woke me up at about 4:30 in the morning the next morning because the sun was out. She was so excited.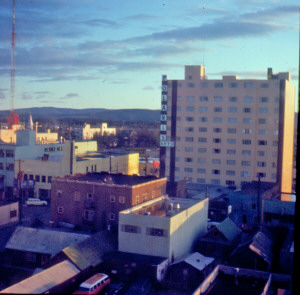 She hadn't slept at all in Barrow where the sun never went down. She sat and looked out the window all night. And now here she was awake and all excited because the sun was out. I was not amused and told her to go back to sleep.
Tour Bus: Fairbanks to Whitehorse Yukon
We left the next day very early in the morning on a bus trip to Whitehorse Yukon. It was grey and rainy. The bus left at about 7 am. We stopped often to see mountains and waterfalls. It became my joke that it was miles and miles and miles of rivers and lakes and streams and mountains and oh look a sheep! We'd pile out of the bus and they'd point up a mountainside and we were supposed to see a mountain goat or sheep which no one could ever find. This was a lot for a 16-year-old after over two weeks of touring with her mother.
We sat behind a lady who sucked her dentures the entire time. Each time we got off the bus we'd rotate back a row when we got back on. That way there was no favoritism in who got to sit up front. But it also meant we sat behind or in front of this lady the whole way. I think given that it is 600 miles from Fairbanks to Whitehorse and these days they estimate it takes 11 hours to drive it, that we did this in two days. I think that we stayed at a motel at the border between Alaska and Yukon but I could very well be wrong.
I remember having lunch one of the days with an older couple--this was a given of course because everyone besides Mom and I was over 65. We were out in the middle of nowhere and had lunch in a little roadside place that was more cabin than anything. The couple had blueberry pie ala mode for lunch and this impressed me no end. No sandwich, no soup, just pie. When I mentioned this they said that at their age they could have whatever they wanted. The wife had gorgeous diamonds that Mom was admiring and I said something about them. The lady smiled and said, "Just save your ice cream money." Yeah right, that's a lot of ice cream, I thought! She was very nice and kind and that's what I remember about her.
We arrived in Whitehorse in the late afternoon. We stayed at strange little hotel that was decorated like the gay nineties complete with red flocked wall paper. We had a steak dinner in a place that was similarly decorated. Before dinner we got to watch a crop duster buzz bomb the field right out our hotel window.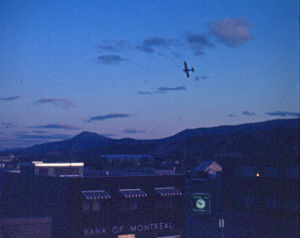 Train: Whitehorse, Yukon to Skagway, Alaska
The next morning we took the narrow gauge railroad from Whitehorse, Yukon to Skagway, Alaska. This was the original railroad that was built for the 1899 Gold Rush. The bridges were incredibly high and appeared to be pretty rickety.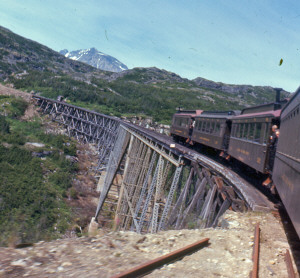 There was magazine photographer and a writer doing a piece on the trip. I hung out with them and we spent a lot of time between the cars trying to shoot photos and scaring Mom because we were hanging out in the breeze and it was a long way down.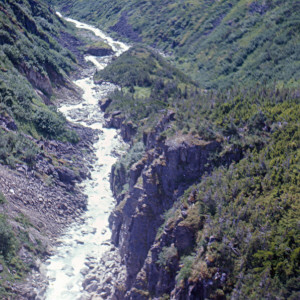 We must have stopped at the town of Carcross, Yukon because we have photos of the train station and the sternwheeler Tutshi and a little locomotive called, The Duchess.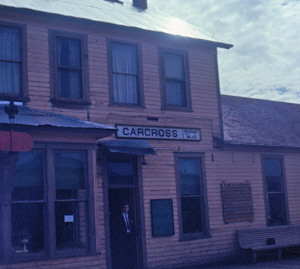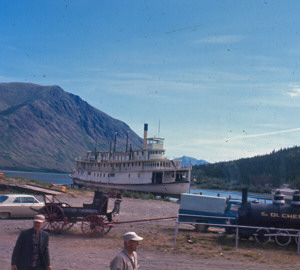 Once we were back into Alaska we passed Inspiration Point where there is a monument to the pack animals who died early in the Gold Rush hauling gear up over White Pass before the rail road was completed.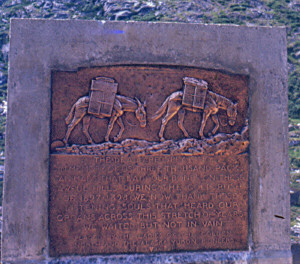 We stayed in a 'new' hotel in Skagway. In other words it wasn't one of the original buildings from the gold rush era like the rest of the town. It was another one of these fake gay nineties places and really a riot. Here's what the other hotel in town looked like.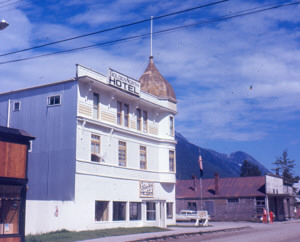 We had dinner that night in a historic bar in town where people had carved things in the table tops and the men's bathroom was supposed to have an incredible collection of graffiti.
The photographer and writer ended up at the same place and picked Mom and I up with the line that they were sure we were sisters and feigned surprise that I was only 16. I believed them, I'm not sure if Mom did or not. They tried to get me to go look at the Men's Room's graffiti but I wouldn't do it. The three of them had a number of drinks and got very happy and I got bored. So off I went to the hotel and Mom had a good time drinking and flirting with them into the wee hours of the night.
Here's the view from the dock just in front of our hotel. And then from the foot of the dock looking back at town.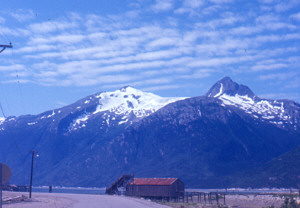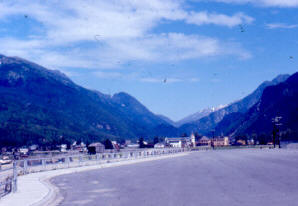 The next day we had a bus tour of Skagway which couldn't have taken more than an hour. It included a trip out to the outskirts of town--the cemetery maybe? There were lots of old stores and things that still had original stuff in the windows but hadn't been restored. Everything was pretty dusty and dirty and old. Being someone who had grown up with Knott's Berry Farm and Disneyland, I wondered why they hadn't fixed the place up!
The cruise ship we would take down the Inside Passage arrived in late afternoon.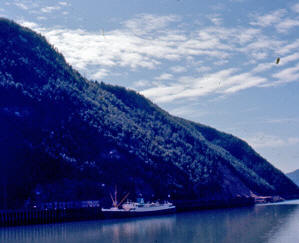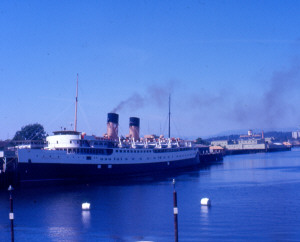 Cruise Ship: Skagway to Vancouver
That evening we caught our cruise ship to go down the Inside Passage. It was a very small ship and our room was about the size of the Pullman sleeper we had on the train one trip to Arizona. I had the upper berth and kept hitting my head on the ceiling. The bathroom was microscopic. It had a tiny little sink about the size of the one in our trailer. Meals were assigned seating. We shared our table we some British ladies who ate like things like Finnan Haddie (smoked haddock) for breakfast. They were charming and thought it very amusing that I couldn't bare the sight of their fish first thing in the morning.
We were supposed to go to Glacier Bay but the weather was bad and a ship had just hit an ice berg there and so they wouldn't take us. I think we stopped to pick up more passengers in Haines and then headed south down the Inland Passage.
We stopped in Juneau and had a tour out to the Mendenhall Glacier and to a fish ladder. I think we went to some sort of visitor's center too—maybe at Mendenhall?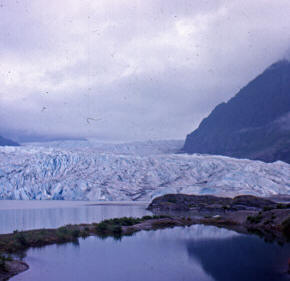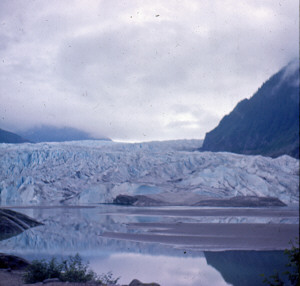 We also stopped in Ketchikan. It was raining of course. There was a tour out to a saw mill and I just couldn't bear the idea of getting on another bus. Mom took pity on me and we just walked along the waterfront and visited the stores and a church there. I remember one of the store clerks saying that it rained 366 days a year in Ketchikan--a wonderful exaggeration but close to the truth.
Then we got out into open water and the weather was so bad they wouldn't even let us out on deck. So we paced around this little cruise ship for a full day. All there was to do was read, play parlor games like horse races and watch an old copy of Blue Hawaii, not one of Elvis Presley's better efforts. I remember reading all of Tale of Two Cities on that leg of the trip.
The cruise ship let us off in Vancouver. We had time before our flight home and Mom insisted on using it well. We took a cab to Stanley Park and visited the zoo and a museum. I remember we had a bit of a challenge getting a cab to pick us up there to get back to the hotel.
Flight: Vancou
ver to Los Angles
W
e were gone for 3 weeks all toll. While it was wonderful trip, I was happy to get home when we finally got there.