Every year, I grow annuals to plant in the main garden and in the pots on our decks. I grow most of them from seed indoors. A few like California Poppies, Candytuft (Iberis Umbellata), Clarkia (Godetia amoena) , Sweet Alyssum and Peony Poppies reseed themselves here and there around the garden.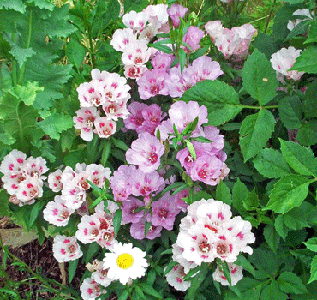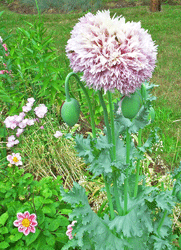 Godetia Peony Poppy
I plant sweet pea seed directly in the garden in mid-March. I've tried all sorts of ways to trellis them and have finally settled on stringing nylon netting between two steel stakes with bamboo poles attached. This gives a sturdy base for them to grow on.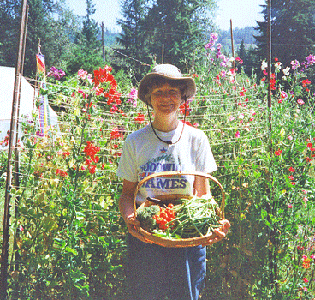 I grow marigolds to plant in amongst the broccoli. Slugs love them and seem to prefer eating the marigolds to munching on the broccoli. Or so I like to believe.
I plant lobelia along the edge of my squash bed just to give it some color while the squash are growing up.
The sweet peas take up half of my annual flower bed. The other half is dedicated to flowers for cutting and drying.
Most years I grow larkspur. It's wonderful fresh and dried. Dried, it keeps its color for years and years.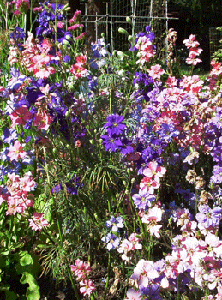 Larkspur
In 2008, I grew
Larkspur
Strawflowers (Helichrysum)
Silver-top Wheat
Asters
Xeranthemum
in my annual flower bed and another partial
bed
of part shade flowers that included
Nemisia
Nicotinia
Begonias
Coleus.
I direct seeded the Xeranthemum and it didn't make it so this year I'm starting it indoors. Some years I grow zinnias and over the years I tried to grow just about everything at least once.
In 2009, I'll be growing:
Asters
Larkspur
Xeranthemum
Silver Tip Wheat
Acrolinium
In the part shade bed I'll be growing:
Stocks
Snapdragons
Coleus
Nemisia
I plant Impatiens on the deck and stairs leading to our 'front' door--otherwise known as the living room side of the house.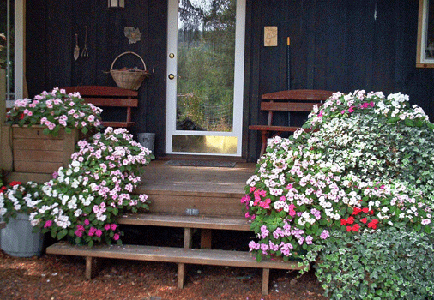 I grow a mix of annuals for my other deck pots including:
Lemon Marigolds
Schizanthus
Lobelia
Nemesia

P
etunias
Snapdragons
Stocks
Sweet Alyssum
to mix in with Geraniums and African Daisies that I winter over in my greenhouse.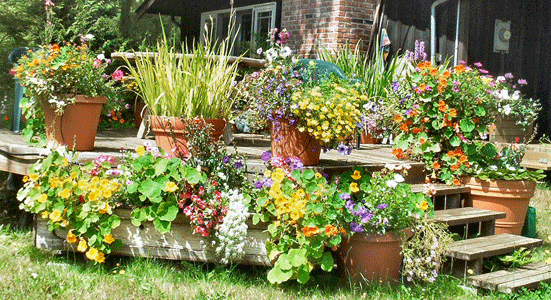 I plant the pots really densely and then wait and see what flourishes. Every year they end up dense and lush and entirely different than the year before.