I started my foray into quilting a number of years ago when I made a simple bedspread for Walter's and my bed. It's made with long strips pieced together in such a way to fit our bed perfectly.
I really enjoyed designing it and figuring out which fabrics would look best where. Then I discovered that you could print photographs onto fabric and my mind went wild.
My sister, Kathy, loves waterfalls and I had some great waterfall photos from our trips so I set to work and designed this little wall hanging for her.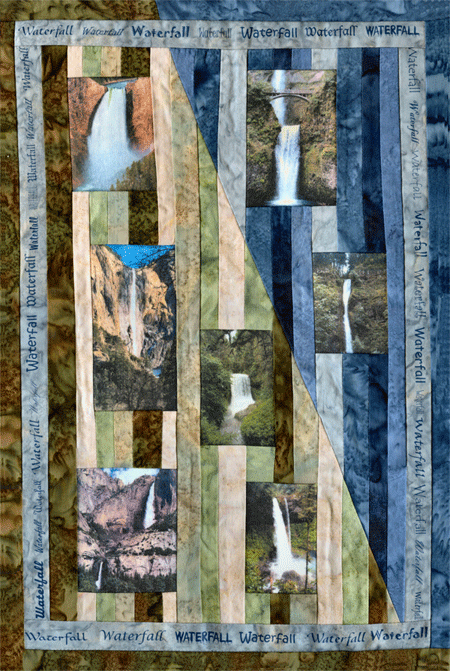 That was so much fun that I got some BIG ideas for Kathy's 40th Wedding Anniversary in 2006 and her 60th Birthday in 2007.
For the Wedding Anniversary I made fabric transfers from old family photos of as many couples back as far in time as I could get. I also printed out pieces of lightly floral fabric with the names and wedding dates of each couple.
I arranged them around Kathy and Mike's wedding photo along with a photo of their children when they were little. Kathy loves purple so I used the purple fabrics to frame the photos. She carried yellow roses at her wedding so I used them and purple roses to add some interest to the open spaces.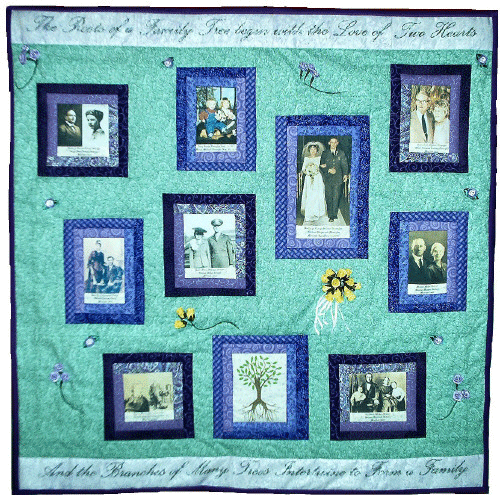 For Kathy's birthday I made what I called "The Ladies Quilt". This time I took photos of as many of the mothers, grandmothers and great grandmothers as possible and combined them with a photo of Kathy, her daughter, Amy, and me (all when we were 17 or 18).
I wish that I'd had photos of all the ladies when they were in their late teens but no such luck. Instead, I used ones from that age if I had them and the others were just what I had.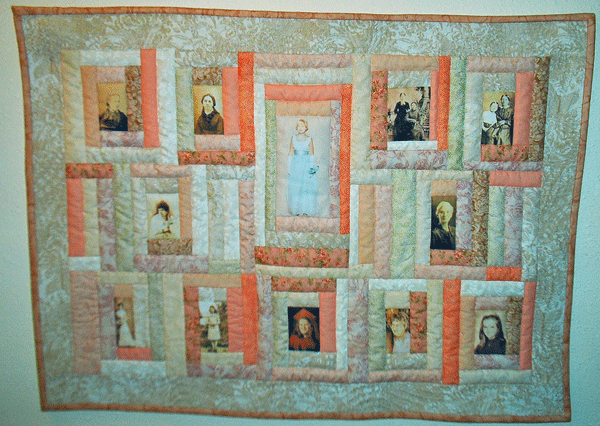 In addition to quilting around all the pieces of fabric I did a detailed quilting pattern around the edge.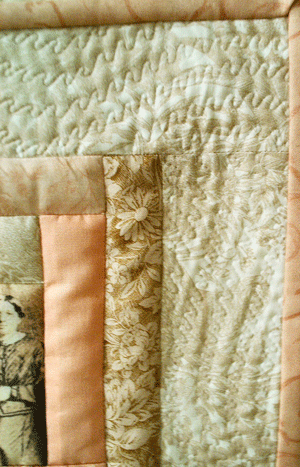 Then Kathy got even with me by giving me a kit for a "Look Sally Look" quilt with prints of drawings from the Dick and Jane Readers. I've got it assembled, but I haven't finished quilting it yet.